About
Videos
Sponsors
About
REAL15 is an interactive property forum that brings together the brightest industry minds who are reshaping the real estate landscape.
With only limited seats available, this exclusive and intimate experience will be hosted by Jason Andrew. You'll have access to the insights, ideas and inspiration you need to transcend the status-quo and reach peaks of success that most only dream of.
Join us at REAL15. Together we'll reshape real estate.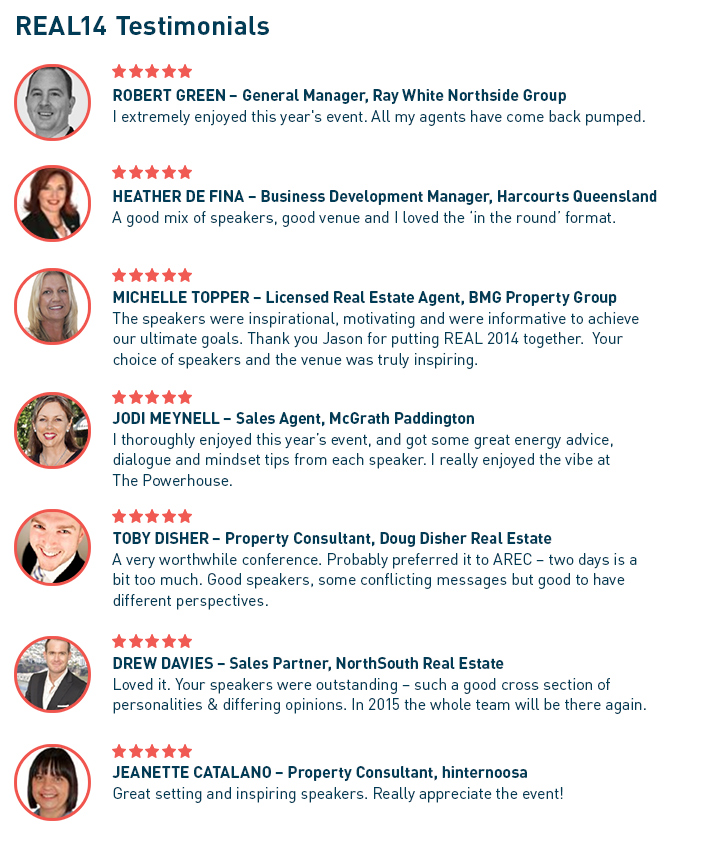 Major Sponsors
Domain is part of the Fairfax Media Network and is one of Australia's leading destinations for property seekers.

We provide tools and information for buyers, sellers and renters Australia wide - and a highly qualified audience for advertisers.

Domain can be accessed on your mobile, at Domain.com.au and in over 200 metropolitan, regional and community newspapers.

No matter what you're after, Domain has your property needs covered.
RE/MAX Australia is positioning itself as an industry leader through successful structures and business models for the future, and its members are ranking in the global company's international top 100 in growing numbers.

RE/MAX Australia is an integral part of the international success and growth of RE/MAX, which today outperforms every other real estate agency business in the world based on volume of sales and many other criteria. The RE/MAX reach is 95 countries, over 6500 offices, and approximately 100,000 people employed or contracted worldwide.
Partners
Styled By Me is an established Property Styling/Staging company that provides affordable styling solutions to prepare your property for Sale.

Our aim is to attract the largest audience of potential buyers & draw out the highest possible selling price in the least amount of time.

Styled By Me has earned a strong reputation for presenting properties to achieve a successful sale. We embrace the challenge to present any style of property across all price ranges and locations, both occupied and vacant.
Founded over 20 years ago, VFX has grown to be one of the largest digital printers on the East Coast of Australia. With a highly developed distribution system and a significant network of installers we are able to supply and install anywhere in the country.

After establishing a strong reputation providing signage to the fast paced and highly competitive real estate market, we expanded into small format printing and soon became the preferred supplier of marketing materials for many of Australia's leading real estate agents.

Our high level of customer service and competitive pricing has since resulted in referrals into all areas of business.
Hello House gives your client's listing the visual edge.Our bag of tricks includes a keen eye for detail, as well as industry know-how. In other words, we visualise the potential of properties large and small, while appreciating the deadlines facing busy agents. Our team also produce a range of personable, beautifully shot videos to bring out the best in the main attraction.

As specialists in south-east Queensland for almost six years, we take pride in delivering quality work for tight turnarounds. With a portfolio showcasing homes for Australia's premier real estate agencies, Hello House is your benchmark for images that sell.
| | |
| --- | --- |
| | We are a real estate marketing company specialising in printed direct mail and telemarketing. We work with agencies from single operators, to large multi office groups right across Australia. Our services are all designed with the real estate industry in mind, from our strategy sessions and distribution, through to our copywriting and call centre. Our aim is to make agent's communication more effective, and allow them to focus on their dollar productive activities. |
Amber Werchon
Dr. David Martin
Dane Atherton
Amber Werchon
Amber Werchon is a well-known real estate identity, particularly in Queensland where she's been the recipient of multiple real estate and business awards, including REIQ's Salesperson of the Year for an historic consecutive three years and more recently the 2014 Medium Residential Agency of the Year. Amber has been appointed the REIQ Zone Chair for the Sunshine Coast for 2014 – 2015, where she represents the interests of Coast Agents, as well as being a spokesperson on the local property market.
Achieving enormous success from a young age, Amber is admired and respected by industry colleagues and peers. Amber attributes her success to hard work, goal setting and employing a supportive and talented team of people who share her vision to be the best. Launching her own brand in 2008, Amber has developed and grown a solid business with a high profile in the community and an outstanding reputation.
As one of Australia's most successful and dynamic Real Estate Principals, Amber continues to raise the bar and promote professionalism in the industry.
At REAL15, she'll share her journey, as well as the lessons she's learned to effectively balance work, family and success.
Dr. David Martin
Dr. David E. Martin's full list of qualifications, accolades and experience is an impressive read. The Founder of M·CAM®, the international leader in innovation finance, trade, and intangible asset finance, he is also actively engaged in global ethical economic development.
From the halls of parliaments to HBO comedy, Dr. David Martin takes on some of the world's most complex economic and social themes using solutions that he's successfully deployed in his work with over 160 countries.
With current work including financial engineering and investment, public speaking and writing, he has also served as an advisor to numerous Central Banks, global economic forums, the World Bank and International Finance Corporation and national governments around the world.
Dr. Martin has publications in law, medicine, engineering, finance, and education. He maintains active research in the fields of linguistic genomics, fractal financial-risk modelling, and cellular membrane ionic signalling.
In a televised speech in 2006, David correctly forecast the U.S. housing financial crisis and identified it as a catalyst for the 2008 Global Financial Crisis. His investment funds, banking businesses and global trade network return extraordinary results by measuring all the field effects of every endeavour.
Described as a futurist, fulcrum ninja, economist and global business executive, David disarms the most ardent pessimists, showing that with the right perspective, we can tackle any perceived problem and achieve extraordinary outcomes.
He is the father of two adult children and works with his wife, Colleen, in every endeavour of life.
At REAL 2015, David will reveal how transforming our view of property and real estate can radically improve our returns on both economic and social dimensions.
Dane Atherton
As the Managing Director of Harcourts Coastal, Dane offers energy and invaluable experience as the leader of the Gold Coast's most dynamic Agency.
Since joining the real estate industry over 12 years ago, Dane has since helped over 8000 property owners achieve their goals.

Dane has been officially recognised as the best Auctioneer in Queensland, spoken at numerous industry events and has regularly appeared in the media as an industry expert.

Dane offers his team and clients an incredible advantage with his insight into the sales process and a focus on creating a real estate business that is 'Positively Different.'
At REAL15, Dane will share the lessons he's learned during his 14 year real estate career, including the difference between talking and doing and how to avoid common traps and pitfalls on the path to success.
Matt Lancashire
Emmy Thies
Nick Renna
Matt Lancashire
Matt began his journey into real estate with a simple focus: to maximise value in every transaction – value in price, value in service. Matt's reputation as one of Brisbane's leading agents is something he takes very seriously. When choosing an agent to represent your home, point of difference is key. Sit down with Matt and discuss property and you'll quickly realise why he is now commonly regarded as the best in the business. His intimate knowledge of the market has been amassed over a number of years of practical experience.
Matt's dedication to his clients and career has been reflected in a number of awards and invitations to speak at elite real estate events. Through recognising his clients are as unique as the properties he presents, Matt gives clients the edge and ultimately the results they want in a fiercely competitive field. Tenacity, perseverance and exceptional negotiation skills are offset by Matt's ability to think laterally in all situations.
Matt has written a how-to guide of writing more than a million and at REAL15, will be sharing his tips on how to find your own point of difference in today's fiercely competitive environment.
Emmy Thies
Emmy Thies is the principal of a highly successful independent brand, House Estate Agents, with a team of 30.
Emmy has spent the last ten years in the real estate industry in various roles and has had experience in all aspects of the real estate industry. Starting from the ground up from administration to property management to property sales and business management. Emmy gained her full real estate licence in 2004 and is now a principal licensee and one of Toowoomba's leading sales agents.

Her passionate drive to succeed in Real Estate is not to be misunderstood, with an impeccable dedication to all clients. Emmy works hard to leverage her local expertise to building positive and successful outcomes for her clients.

Emmy loves her career, people and property are her passion. She looks forward to assisting you in your next property move to achieve the very best results.
At REAL15, Emmy will share her inspirational story, highlighting the importance of self-belief and a constant determination to achieve.
Nick Renna
As Director of hockingstuart Bentleigh Nick has realised two long-standing career goals; to work at the highest level in his chosen profession and to work with leading Estate Agents.

"I'm proud to be a member of such a successful team. At hockingstuart we constantly stay ahead of the competition through innovative marketing strategies that provide maximum exposure across a wide range of both print and electronic media."

Nick's cordial manner, good humour and single-minded determination have won him many accolades. His auctioneering skills have earned him far more than industry awards, they've also resulted in an extraordinary number of client recommendations. "A successful auction is an event similar to any team sport," he says. "The auctioneer is the most visible and recognisable part of the team, however there are many people involved who make it all happen. Knowing I'm backed up by the hockingstuart Network empowers me to do my job with complete confidence."

"hockingstuart has an extensive network that directly benefits our clients. Our staff can draw on terrific resources that ensure the best results for our clients."
At REAL15, Nick will share the nitty-gritty of the specific things he believes every agent needs to be doing day-to-day if they want to become truly successful.
Tom Panos
Paul Curtain
Megan Jaffe
Tom Panos
Tom Panos is considered one of the country's leading real estate trainers. His weekly videos have attracted more than 19,000 subscribers and his website, www.tompanos.com.au, is currently ranked #1 on Google worldwide for real estate coaching.
With his coaching business operating alongside his other role as the general manager of real estate for News Limited, Tom has gained a unique perspective on the real estate industry, enabling him to effectively distil what it means to be a successful agent. Having interviewed almost 300 agents who are regularly writing more than $1 million for his video blog, he's also learned critical lessons along the way in terms of building a digital, social and traditional footprint.
At REAL15, Tom will share his personal learnings, along with the very best scripts and dialogues of 2015 and tips on how to beat commission cutting agents.
Paul Curtain
Paul Curtain, Managing Director of Place Estate Agents has the immeasurable job of managing, mentoring, training and coaching our vast sales teams at each of the Place establishments. This has been a major driving force to the success of the Place operation.
Throughout Paul's real estate career he has had many notable achievements including a winner for the REIQ Auctioneer of the Year. In 2010, Paul has been engaged by the REIQ as a member of the board. Paul has an original mind for business and an energetic passion, imagination and implementation attitude for innovation in real estate on a daily basis.
From a single original office, Place Estate Agents now operates from a total of ten locations, employing more than 300 people.
At REAL15, Paul will share the key decisions that shaped his career, as well his key learnings along the way.
Megan Jaffe
Megan Jaffe knows all about the inherent challenges involved in facing the brutal facts. Making the transition from elite performer to principal seven years ago, she remained a top writer herself, but struggled to recruit other salespeople and struggled even more to retain them - all because she carried a deep, dark secret that meant she could never really succeed.
Riddled with stress and anxiety, four years ago Megan finally decided it was time to take a good hard look at herself. Acknowledging her secret to herself and others was a watershed moment. Overcoming it was the hardest thing she would ever do.
Today, Megan has 110 people working across seven offices and has taken her business to second in the Ray White Group across Australasia.
At REAL15, Megan will share her very personal and incredibly inspiring journey from rock bottom to rock star.